INTERNATIONALLY RECOGNIZED
KANSAS POLYMER RESEARCH CENTER
We create wealth, jobs and new technology-based enterprises through polymer research, development and testing services.
Request Proposal
Our
Polymer
Story
Advancement of renewable resource technology.

The KPRC is in the process of rebranding to the National Institute for Materials Advancement (NIMA). The NIMA website is under construction and will be live soon. In the meantime, if you need information please contact Mary Leritz at mleritz@pittstate.edu or call 620-235-4112.
The Kansas Polymer Research Center (KPRC) is a leading center in the development of new bio-based polymer materials. With a well-developed expertise in polymers and a history of performing applied research for several industries, we assist our partners in developing, processing, and testing new materials for licensing and commercial applications.
KPRC is also an internationally recognized center for chemistry and materials science with a specialization in vegetable oil-based polymer research and development. KPRC scientists work with industrial partners, state and federal agencies, and producer associations to develop and commercialize Pittsburg State University's (PSU) intellectual property. KPRC engages the academic community at PSU through research projects and other educational activities for faculty and students.
Locally, KPRC creates wealth, jobs and new technology-based enterprises through polymer research, development and testing services for clients. Broadly, KPRC contributes to the advancement of renewable resource technology as an alternative to petroleum-based feedstock's.
This effort has positive influences in areas of agriculture, basic and applied science, and polymer and materials chemistry.
Manufacturing Re-shoring Initiative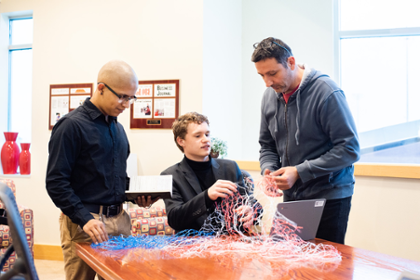 As part of the National Institute for Materials Advancement's (NIMA) Manufacturing Re-shoring Initiative, federal funds are being sought to build a 15,000-square-foot prove-out facility next to the Tyler Research Center at Pittsburg State University.
Its first focus: to re-shore hay net wrap production for use by farmers and ranchers.
It will:
Support the generation of 200+ high-paying jobs in the region 
Lead to an estimated $100 million in capital investment, including satellite support businesses 
Reduce supply chain issues that hamper current agricultural production 
Already complete and in place:
Economic viability study 
Business plan 
Financial outlook 
Expertise and resources at the adjacent Kansas Polymer Research Center 
Anticipated cost: $6.5 million 
CORE

COMPETENCIES
Polyurethanes
We use the renowned base properties of polyurethanes and tailor them over a wide range for many challenging applications.
Bio-based materials
KPRC develops polymers from a broad range of biological sources to offer commercially viable options for materials produced from renewable resources.
Foams
Polymer foams are widely used in a variety of applications due to their lightweight, resistance to impact, thermal insulation, and damping properties and the KPRC continues to expand the boundaries on performance, renewable content, and economic viability throughout this critical industry.
Electroactive materials
Electroactive polymers (EAP) are smart materials. Their incredible response to an electrical field is a perfect complement to our competencies in research and development of materials. For demanding applications in energy generation, storage, and transport the opportunities in the automotive and aerospace industries, as well as many others, are virtually limitless.
INTERNATIONALLY RECOGNIZED
KANSAS POLYMER RESEARCH CENTER
We create wealth, jobs and new technology-based enterprises through polymer research, development and testing services.
Request Proposal
Who we
SERVE
Research. Development. Education.

Industries
Our research and technology relates with virtually all industries such as automotive, aerospace, construction, home furnishings, agriculture, and others.
We strive to develop partnerships and collaborations with a number of partners in the region, state, and across the nation to impact and drive the global marketplace.
Academics
KPRC is located on the campus of Pittsburg State university, who offers academic programs in theoretic, research and application fields of study in two colleges.
Community
KPRC works with local communities to delelop opportunities for businesses.
Education
We support local and regional STEM activities by inspiring students and teachers in the expertise areas in which we are passionate about.
Testing Services
Goal #1: Students Should Be Able to Communicate Effectively.
Oral Communication (Goal 1 Objective 1)
Writing (Goal 1 Objective 2)
Math (Goal 1 Objective 3)
Goal #2: Students Should Be Able to Think Critically.
Critical Thinking
Goal #3: Students Should be Able to Function Responsibly in the World in Which They Live.
RENEWABLE RESOURCE TECHNOLOGY
Thinking of starting
a research project with us?